Photo: Anna Hedges chilling with her kids by WaterAid's Good Loos at Camp Bestival Lulworth Castle, 2019. © Private
Anna Hedges, WaterAid's Festivals Events Manager, tells us why Good Loos are good news for festival-going families everywhere.

Festivals are great for families, but the toilets can be a real turn-off. Not so when WaterAid's on site. We take the stress out of toileting so parents have more time for the music, food and fun that events like Camp Bestival have to offer.
How do we do it? With a crack team of volunteers who keep the toilets clean, the taps sparkling, and are always on hand to chat to people about the work we do around the world.
It's the perfect place to do it – for many, festivals are the first time they'll have had to walk or queue to get water, find a place to wash their hands, or go to a toilet that isn't like the one they have at home. WaterAid provides clean water and decent toilets at festivals while giving people an insight into what life could be like without them.
All the perks without the dirt
Our Good Loos provide families and everyone else THE BEST way of going to the loo at a festival – cleaned after every use, toilet paper, free sanitary products, hooks to hang your backpacks on, bean bags to have a little rest on, free water refills, sinks (sized for the tall and the small) with soap and water, mirrors to check your festival wear is on point, free temporary tattoos and badges for little (or big..!) ones.
We have a specially built loo for anyone with accessibility needs – it's a large space that can also be used for nappy changing or for those little people who can get a bit overwhelmed in the smaller festival style loos.
And you get all this with a suggested donation of just £2, which also means you'll be directly supporting others around the world so they can access clean toilets in their own communities.
You'll be doing your bit for the environment, too. Our Good Loos are composting toilets which makes them very environmentally friendly. At the end of the event, we take the waste away to a farm in Somerset, where it's treated and then turned to compost that can be used on the land.
Where community comes alive
In my ten years leading WaterAid at festivals, the biggest lesson I've learned is that people genuinely want to help others. From our terrific Good Loos crews, to festival organisers, to festival goers themselves, the will to pay forward enjoyment and do whatever's possible to help others is strong.
I've had some pretty memorable moments, myself. From the time we got 100,000 people to support our campaign being taken to the UN in 2015 to influence the Sustainable Development Goals, to Michael Eavis opening the first of our water kiosks at Glastonbury in 2013 (based on a design from one of our projects in Madagascar), to welly-wanging with HRH Prince Charles.
But the most memorable, personally, has got to be launching our first 250+ volunteer cleaning team in a wet, muddy field while 8 ½ months pregnant – and then giving birth four days later.
It's fair to say, it's been a ride – one I'll be right back on again this summer. See you in the queue!

Anna's 6 tips for getting the best festival family loo experience
1. Leave plenty of time. Go before everyone thinks they need to, so that you're not stuck weaving little ones through crowds when they REALLY have to go.
2. Use the loos before leaving the campsite – see above.
3. Try not to stress about the time it takes – yes we'd all rather be watching a band than checking out the loos (well, possibly not me but I think I'm an exception to this rule!) but it will inevitably be part of your festival experience. Find some loos that work for you, mentally bookmark their location/use the handy festival maps and save yourself time looking.
4. Bring snacks, books or small games in case you're in a queue (or have other children waiting). Going to the loo can actually provide a much-needed time out from the excitement of the festival.
5. Fill up your water bottles at the same time, and save time later.
6. Use WaterAid's Good Loos. Take 5 to chill out, get a temporary tattoo or send a postcard as part of our climate campaign. Use our mirrors, free water and chat to our friendly volunteers.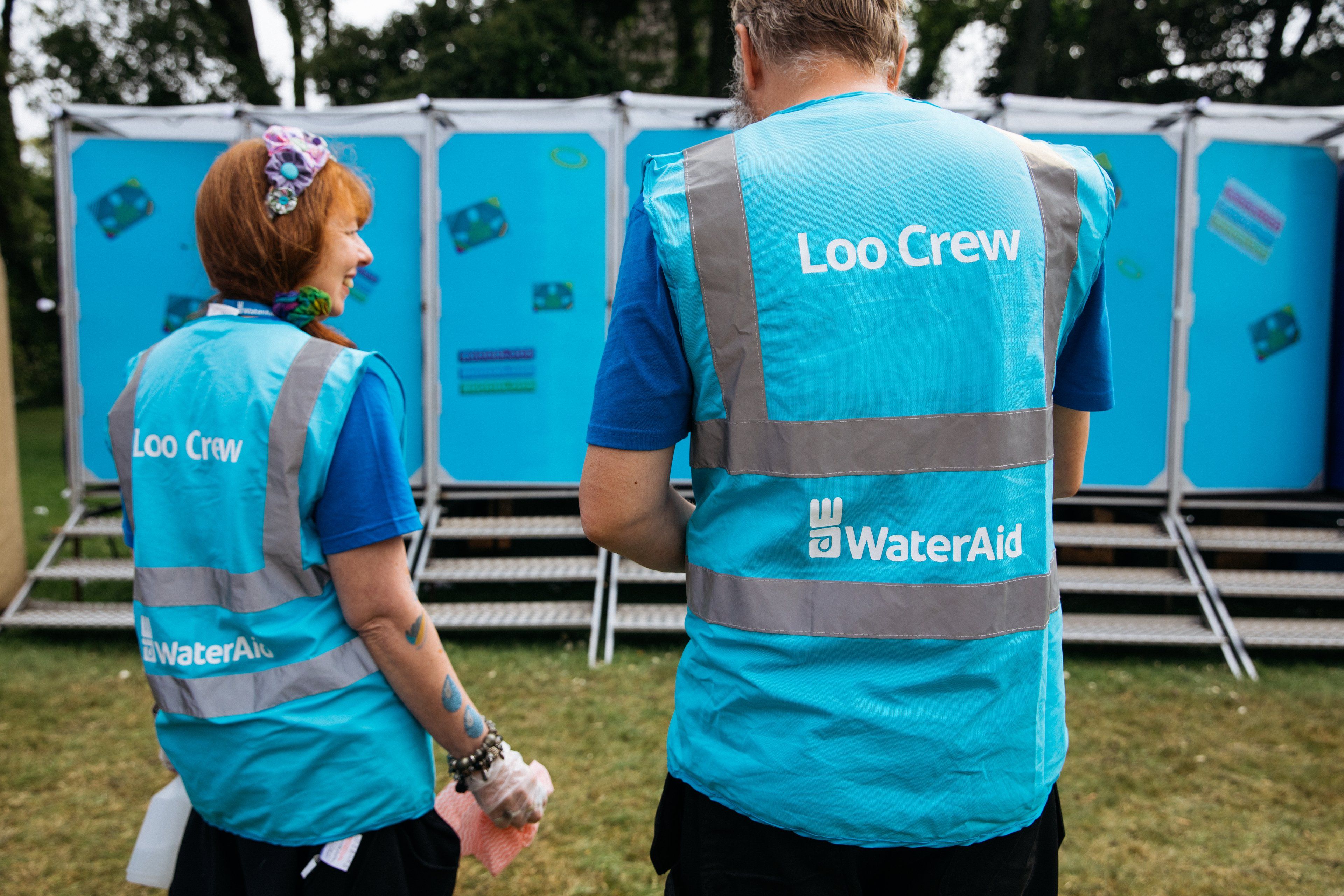 Photo: Good Loos volunteer Sarah Knight and Anthony Cutts at Camp Bestival, Lulworth Castle, Dorset, August 2021. © WaterAid/ Billy Barraclough